About brand Gamma

The GAMMA company is the leading Russian manufacturer of creative art and hobby products. The assortment of this trade mark is for the customers who learn and progress, who strive for perfection in everything.
To uncover a talent of every individual, GAMMA offers a wide range of quality and inexpensive supplies. GAMMA products help children improve creativity and foster masterpieces by professional artists.
GAMMA PRODUCTION
The GAMMA company appeared at the cusp of XIX-XX centuries and pioneered the start and manufacture of both artist and children paints.
The company started in 1899. By 1926 the number of employees increased to 130, the assortment included oils made of in-house pigments, lacquer, oil varnish, inks, canvases.
GAMMA LLC today is a modern factory, producing high quality creative art goods for professionals and children as well as a wide assortment of stationery supplies.
The products are made following the in-house formulas developed in the main research laboratory of the company. The best specialists choose quality raw materials, perfect existing formulas, invite professional artists (this collaboration started back in 1960s with I.Horin, B.Lenivtsev, B.Okorokov) and independent experts for testing of new samples and forecasting the trends in artist materials development.
Each production facility produces high quality items according to the well-tried formulas. Production facilities are equipped with the high tech machinery: both traditional and modern, being properly and permanently upgraded.
Quality of the produced assortment is guaranteed by strict technical quality control, executed by the laboratory specialists at every stage of production process.
According to its quality level, modern trendy designs and versatile assortment the GAMMA products are flagmen among other post-Soviet manufacturers' goods.
GAMMA AWARDS
2004 -2005 Top Producer of back-to-school stationery
2007 Winner of the "Golden Paper Clip" (repeatedly)
2012 Winner of "The Best for Children", "Quality Seal", "Golden Paper Clip"
GAMMA WATER COLORS AND GOUACHE: MADE TO BRING JOY TO CHILDREN!
In development of creativity products for children GAMMA is guided by modern trends in visual arts and long-standing traditions of high quality.
Gamma water colors exhibit the following characteristics:
bright clear colors are obtained owing to homogeneity of coloring pigment;
transparency and purity of image;
paint is easily taken with a moist brush;
paint applies well on surfaces with smooth spreading without staining and spotting, it is fast-drying;
manufactured using natural components.
GAMMA gouache, unlike water colors, contains less adhesion agent and more pigment and has such features:
smooth matted texture, good water mixing and spreading qualities, easy brush filling;
retains color saturation while mixed. It's possible due to the mono pigments used in production;
does not erase, crack or crumble;
made with natural components.
GAMMA Water colors and gouaches are not just artist tools, they bring joy of creation, fun hours and understanding the world.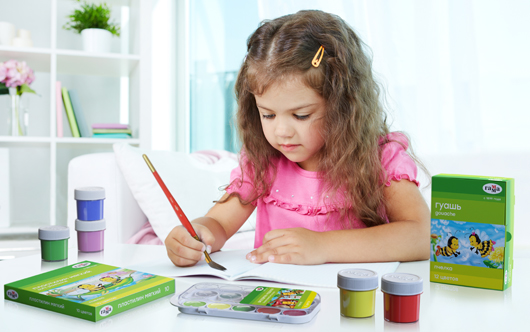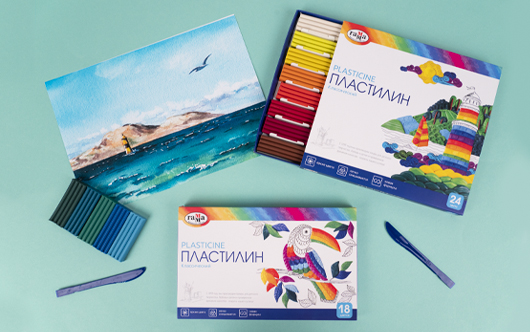 GAMMA MODELING CLAY: ALWAYS KEEPS SHAPE!
GAMMA modeling clay is made of purified and grounded clay powder, which is mixed with oil, wax, ozokerite and color pigments.
All these components are absolutely safe for health.
Decades-long manufacturing experience combined with modern technologies and equipment have their best results in high quality GAMMA modeling clay.
Main features of GAMMA modeling clay:
perfectly keeps shape;
different elements are easily attached and don't fall apart with time;
have bright natural colors;
different colors mix well, producing new shades;
doesn't change quality and harden when exposed to open air;
made with natural, safe for health components.
Thanks to its features GAMMA modeling clay is ideal for school children in making elementary craft items as well as more complicated ones.
GAMMA modeling clay can also be used to create appliqued ornaments: modeling clay sticks perfectly to construction paper, glass and other flat surfaces.
SUPPLIES FOR PROFESSIONALS
At the moment the assortment of GAMMA products includes practically all necessary tools and supplies for professional and beginning artists: water colors, oils, acrylic, tempera, ceraplast and many more.
The main factor shaping GAMMA assortment policy is a combination of high quality, recognized traditions and modern trends in fine art.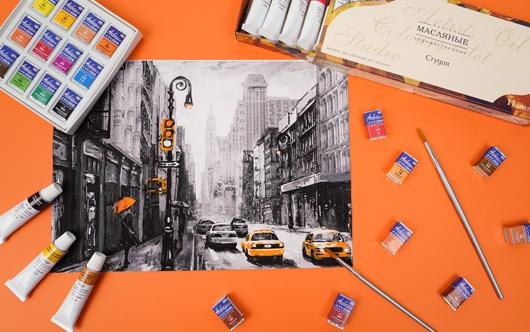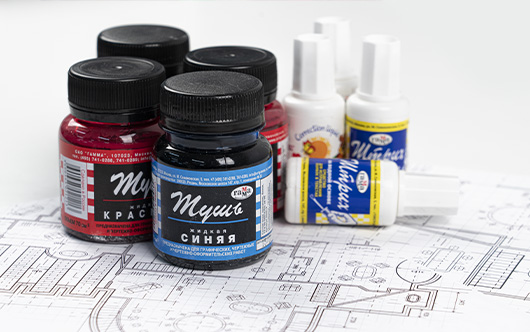 OFFICE AND SCHOOL STATIONERY
For many years among manufacturers of liquid stationery the GAMMA company has been a trend setter in assortment and quality indicators for products of this segment.
Nowadays GAMMA produces corrective tools, stamp paints, inks, and drafting inks.
Get price TM Gamma