About brand Centropen

Centropen's 70-year tradition serves as the basis for the world-leading company that develops, manufactures and sells school supplies and stationery as well as similar products for industrial use.
Writing, technical drawing, drawing, labeling and marking using Centropen products offer customers an effective and high-quality means of communication.
Herewith, attention is primarily paid to the new products development with the task of satisfying the constantly growing consumer's demands. The result of complex technological processes is a completely fresh approach to use of accessories for writing and drawing. A healthy way to write – these three words are one of the driving forces in the Centropen developers and designers activities.
THE HISTORY OF CENTROPEN COMPANY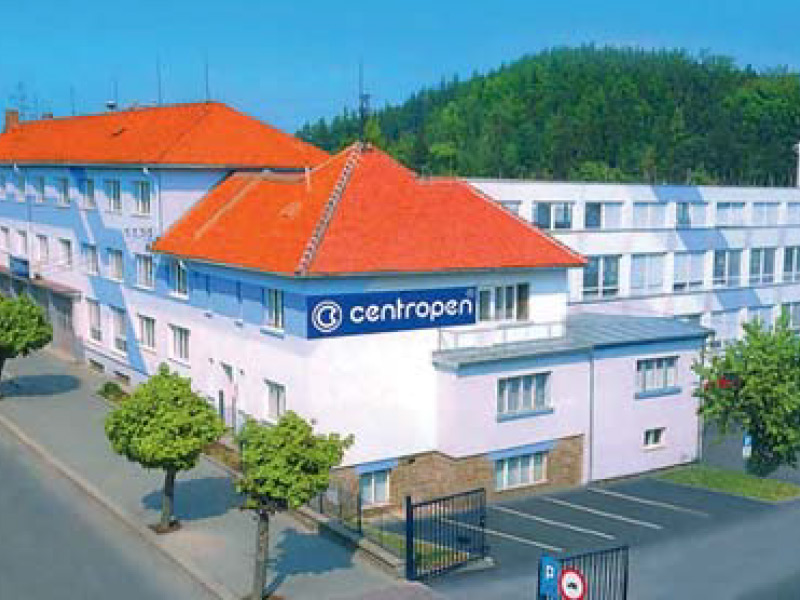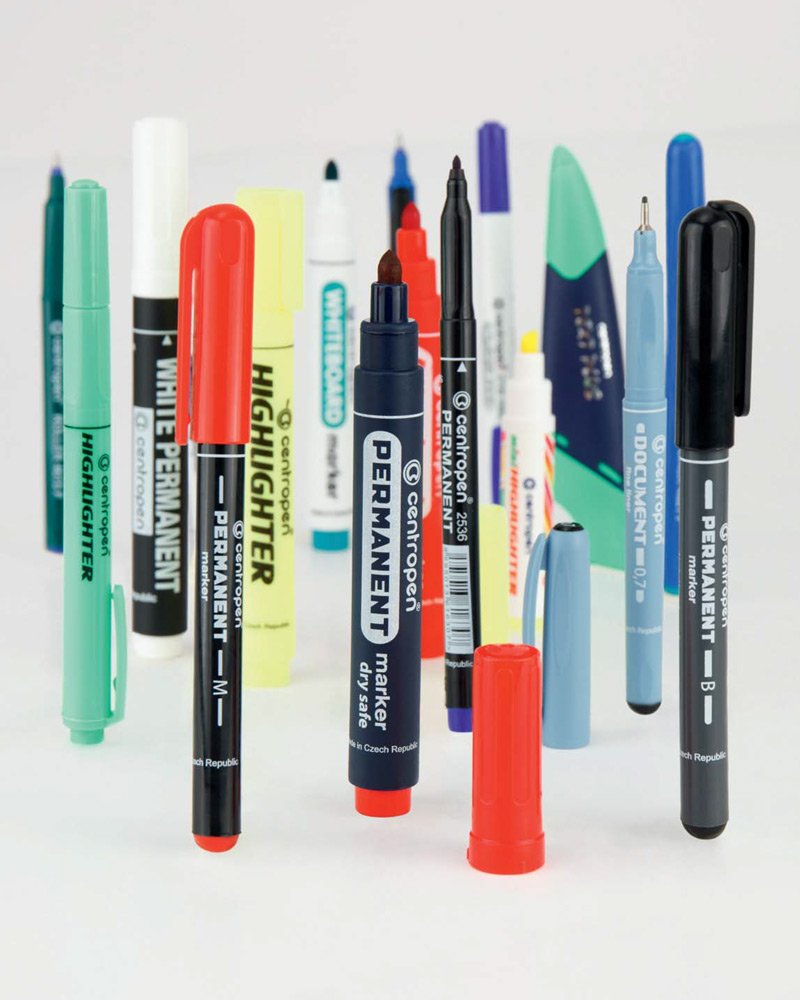 At the beginning of 1940, two entrepreneurs from Dačice decided to launch the joint production of fountain pens and on 27 August 1940, trade license was issued for the "selected profession: Mechanical factor trade: production of fountain pens and technical pencils – pressing and injecting of plastic".
The production of fountain pens was launched in Dačice in January 1941. At that time products produced involved a high ratio of manual labor. The first product was a fountain pen named STENO. The pen's name is formed by the two entrepreneurs' surnames.
In 1950, the number of employees reached 140 people.
In 1962 2 370 000 fountain pens and 70 other types of products were manufactured in the Dačice plant.
In the second half of the 1960s, a new writing utensil was developed in Japan, which quickly expanded to the rest of the world – a marker also referred to by the acronym "fix".
The Dačice plant started adapting to marker production from 1967. 250 000 markers were produced in the first year. At the same time, development work got underway in the plant's laboratory on the company's own production technology for the tampons and ink. After 20 years, technology was developed leading to complete replacement of imports. The children's marker, has gradually evolved into a range of other products – highlighters, felt marking pens, liners, rollers, permanent markers, etc.
In the 1970s, almost 550 employees began producing 15 000 – 20 000 fountain pens and 300 000 markers every day. Dačice plant became an exclusive supplier of selected writing utensils for all of Eastern Europe.
In 1985 the first liner appeared.
In the 90s, the new children's felt-tip pens production began (art. 7790 – Penguin), and a novelty appeared on the market – a "Tornado" fountain pen.
In 1998, the number of employees reached a record point of 628 people.
At the beginning of the 21st century, the company focused its efforts on innovations based on pediatrics recommendations. The mutual cooperation resulted in the idea of a writing tool's ergonomic grip, in other words, the triangular shape of the gripping part at first in all writing supplies for children, and later in all stationery, writing and drawing accessories. The new concept was most visibly present in the design of a new line of rollers and liners bearing the "ERGO".
In 70 years CENTROPEN has become the guarantee of product quality, modern design, safety for health, and also high technical and technological levels.
CENTROPEN MARKER CHARACTERISTICS
Centropen marker with a fiber pen point that provides a rich track, doesn't require pressure on the marker and doesn't scratch the surface.
The marker body is made of polypropylene.
Resistant to deformations and fractures, retains the writing properties for a long time.
High-quality ink, made according to proprietary unique recipes, flawlessly cope with their intended purpose.
The pen point is reliably fixed, which prevents it from being pressed in and deformed even when pressed hard.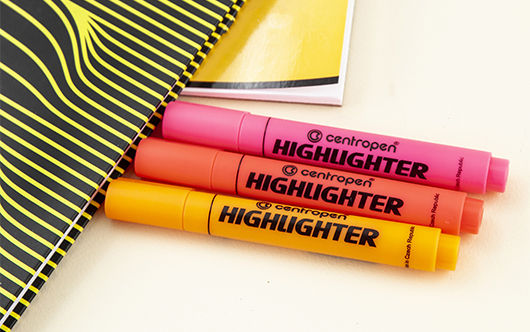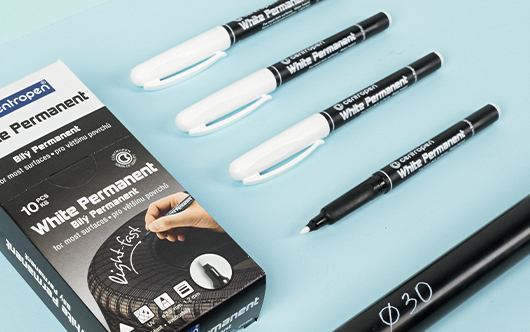 WHITE PERMANENT MARKER
White markers are unique products. On the one hand, they combine all the characteristics of permanent markers: the ability to write on different surfaces, the integrity of the track, and stability of inscriptions. On the other hand, this marker has water-based ink. It means it is odor-free and does not soak through paper.
Therefore, white permanent Centropen markers can be used both as usual permanent markers (especially on dark surfaces), and as markers for display works, in particular for signing and decorating postcards, drawing and anything your imagination tells you.
SPECIAL MARKERS
Just take the Silver & Gold markers and you will immediately want to use them: sign a card to person close to you, decorate a photo frame, make Christmas decorations, decorate interior elements … All this and much more is possible with these markers.
Silver & Gold ink markers are water-based, which means they do not soak through paper. At the same time, the markers trace is rich, permanent on non-smooth surfaces, so that it can be used not only on paper, but also on plastic, wood, ceramics and other materials.
Centropen company produces Silver & Gold markers with two types of pen points:
a thin 1 mm pen point allows you to inscribe and draw fine details;
a thicker 1.5-3 mm pen point is suitable for larger tasks and drawings.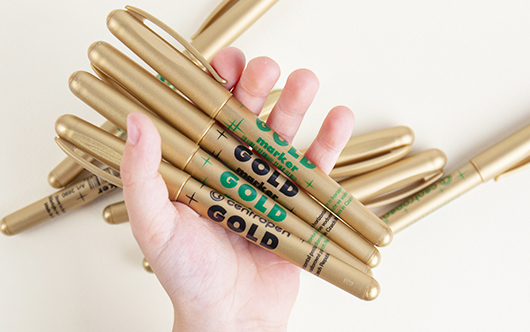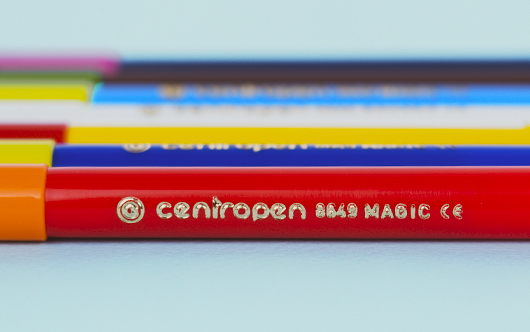 FELT-TIP PENS
Centropen company is one of the leading manufacturers of felt-tip pens. One of the reasons of the Centropen markers' popularity is their impeccable quality that is proven by time, and safety verified by real indicators.
In the Centropen company, a separate unit deals with testing characteristics of felt-tip pens and their safety – the laboratory, which studies various product quality criteria.
Advantages of felt-tip pens:
Bright rich colors: the fiber pen point leaves a bright trace, writes gently and doesn't scratch the paper.
Easily washable ink: washed off with warm water and easily washed at 60°C temperature
Felt-tip pens serve for a long time: they don't dry uncapped for 10 days, and the polypropylene body provides a service life of up to 5 years!
Felt-tip pens are safe for children: they comply with European standards EN-71, ISO 11540, NFS 51-2054, have a ventilated cap.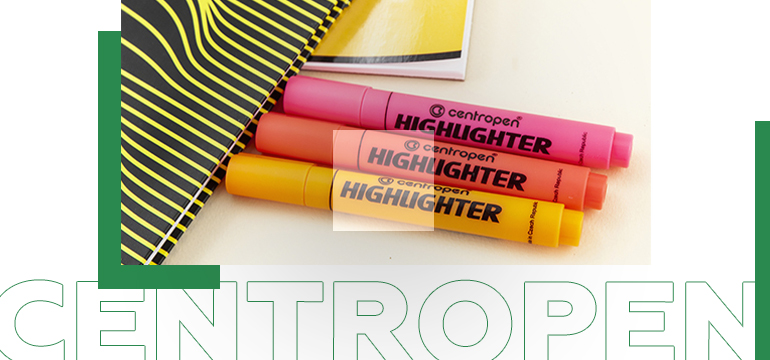 Get price TM Centropen