About brand Kite

The Kite is a European brand that produces preschool, education, teens backpacks, stationery and accessories for study and recreation. For more than 15 years, we have come from a local company producing the backpacks to the International brand producing textile goods, stationery and necessary accessories for study and recreation.
Kite offices are located in different countries. The Germany office deals with the issues of product certification and quality control. The Ukrainian representative office is responsible for the development stage, design, product's adaptation in the various sales markets, marketing and brand development process. The Poland representative office and warehouse are open for the easy goods delivery to the European Union countries, products adaptation in the Polish sales market. Production facilities are located in Southeast Asia.
Kite brand presents a textile collection in groups:
PRE-SCHOOL BACKPACKS
Kids group is a line of the colorful preschool backpacks for the youngest ones. Trying on the "adult accessory", a child feels an independence and behave similar to the parents. Whether visiting the kindergarten or an early development group, the kids willingly trust the Kite backpack with the most valuable things. Kite preschool backpack with a colorful design will become a favorite toy that the child will be happy to play with.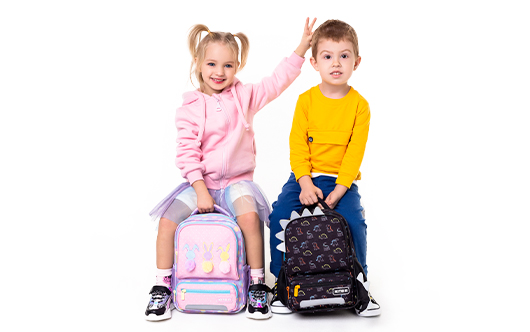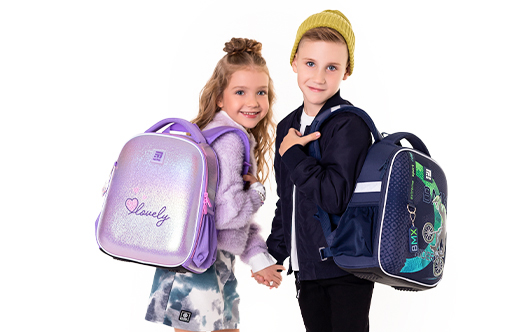 SCHOOL BACKPACKS
Modern hard shaped, semi hard shaped and soft education backpacks contain all the features of being used by school. These models are fitted with ergonomic systems Ergo Kids, Ergo Teens and Air Comfort with adjustable S straps. This special structure reduces the load on the child's back and shoulders. Specious compartments, inside dividers system and organizers allow children arranging all the necessary school supplies in the best way it is need. High-qality durable materials and accessories retain the look and functionality for a long time.
HIGH SCHOOL BACKPACKS
Education teens backpacks contain the functionality of a school backpack and a feature of a stylish accessory. All these models are fitted with soft shapes, ergonomic backs, inner space with organizers, and bright designs for boys and girls aged 13-17.
The variety of shapes, prints and decoration gives every teenager the opportunity to choose a stylish backpack that perfect will match the mood.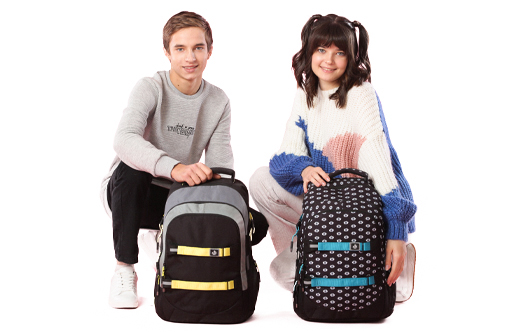 While developing every each collection, we adhere to the strong beliefs:
Take care of comfort and health. Kite brand has developed and implemented special patented ergonomic backs which can maintain a correct posture and helps to prevent the scoliosis.
Use only high-quality materials. Much attention is paid to the choice of the durable fabric. It should pass the wear resistance tests, due to this it won't lose the look for a long time.
To be in trend. Our customers are so different, but everyone will find "their own" Kite backpack. Stylish design, colors combination, materials and all the details – all this is a part of a single message. If you are looking for a unique product, just discover Kite.
Kite will help you not only choose the perfect backpack, but also completely prepare your child for the school life.
The goods assortment includes a wide range of school supplies accessories: ballpoint pens, oil and magic eraser pens, variety of different size of notebooks, soft and bright colored pencils, graphite pencils with a unique design, soft wax-based modeling clay, watercolor paints and gouache, erasers and sharpeners. Kite cares not only about the school life stage, but also extracurricular activities.
The brand offers also a wide range of kid's tableware for school, walks and picnics: such as lunch boxes for a healthy snack, bottles for refilling the water balance, thermos for the fragrant warm tea. All Kite table-wares are high-quality and safe, which means they are ideal for the food storage.
Each product is like an art: high-quality, emotional and ergonomic design, child's favorite licenses.
Support your child in his first educational steps, entrust the choice of a backpack and stationery to the Kite brand!
Get price TM Kite