Children choose better! The Kite brand presented a new collection of backpacks and stationery for 2024

21.09.2023
The most exciting event in the world of stationery and school fashion took place on September 14 The Kite conference gathered clients from all over Ukraine. It was a spectacular and significant gathering of people united by a common goal: to provide children with convenient, high-quality, and fashionable school supplies.
The brand showcased a new impressive collection of backpacks, stationery, and school accessories. The long-awaited conference took place in a cozy atmosphere of unity and became a platform for showcasing the hottest trends and important, profound meanings. The event started with the powerful slogan "Children choose better". All clients had the opportunity to carefully examine each model of the new range, evaluate the details, and experience the advantages firsthand.
The stunning Kite 2024 collection features current trends, comfortable formats, and traditional quality
What will Kite surprise us with in 2024? Which models will be the most demanded among students in the next academic season?
So many novelties! How many were presented! The variety and number of their advantages require a separate article. Therefore, we will soon prepare a detailed overview of all the collection's new items. They will amaze you with both an innovative approach to embodying fashion trends and an impressive range of models. From backpacks that enchant with vibrant shimmering colors to incredibly adorable children's lamps. And these are just some of the products from the renewed range that will soon be filling the shelves of stores, captivating the dreams of schoolchildren.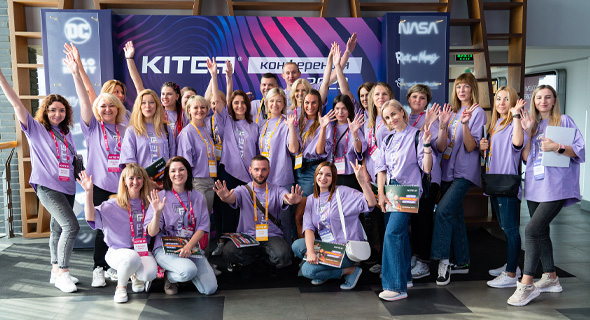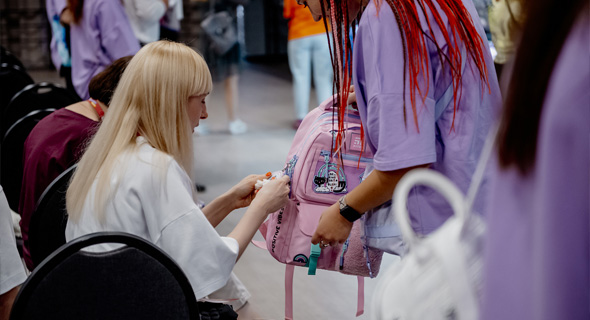 To live or hit pause? To live and help!
The Kite conference is not just a solemn presentation of the 2024 collection. It is a warm gathering where we, in a friendly atmosphere, felt the power of our unity. We expressed sincere gratitude to those who stood by us in difficult times. And chose the vector of the future: to live to make the world a better place. To work to have the opportunity to help and be useful.
Kite's Social Mission: Caring for children's mental health together
Kite's orthopedic backpacks take care of the physical health of students by ensuring proper posture. Kite's social mission is aimed at supporting the mental health of children and teenagers. At the conference, we presented a new project whose goal is to educate harmonious and self-confident individuals. Every child should be knowledgeable about how to deal with their emotions and feelings. Intrigued? Soon, we will provide detailed information about this interesting and useful initiative. It will be a completely new format for us, and both children and their parents will be enthralled by it.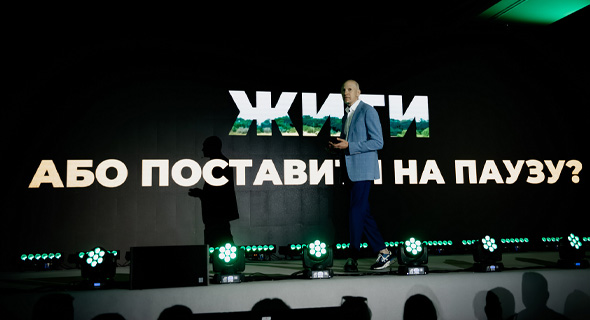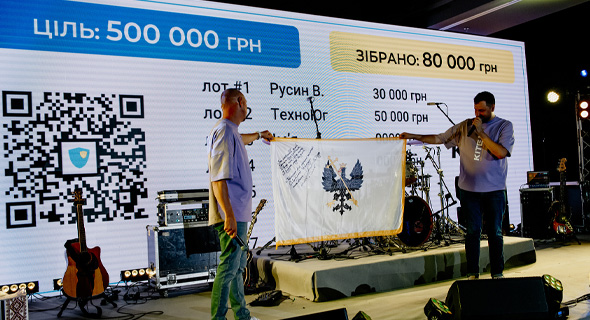 Kite Charity Auction – One million raised for children's treatment!
The Kite charity auction raised 500 000 hryvnias for the treatment of children who lost their parents due to war. This amount was doubled by the VIVAT company, so one million hryvnias will be transferred to the "Children of Heroes" charity fund.
We collected these funds for children who are in special need of our help. Their parents gave their lives protecting Ukraine, and it is our sacred duty to take care of our heroes' descendants.
Which lots went under the hammer to their lucky owners? How much money did we raise for them? A bit of interesting charity math from Kite.
1. Артилерійська латунна гільза 152 калібру – 30 000 грн.
2. Артилерійська гільза 152 калібру з декоративним розписом – 50 000 грн.
3. Прапор міста Чернігова з автографом легендарного полковника та Героя України Леоніда Ходи – 30 000 грн.
4. Тубус від снаряду американської гаубиці калібру 155 мм – 20 000 грн.
5. Худі з автографом начальника ГУР, генерал-лейтенанта Кирила Буданова – 55 000 грн.
6. Боксерські рукавички з автографом Віталія Кличка – 110 000 грн.
7. Вінілова платівка гурту «Друга ріка» – 205 000 грн.
Total amount raised – 500 000 hryvnias.
We believe that these funds will help children restore their health as quickly as possible.
The Kite conference concluded on a positive note, leaving behind a pleasant trail of a heartfelt atmosphere and a noticeable impact of good deeds.
All News
Latest news
Subscribe to the news
Maybe we have something in common. Here are the main highlights about VIVAT.